The Max Schewitz Foundation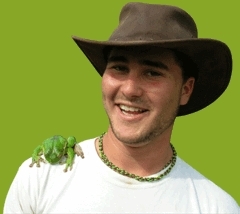 www.MaxAndTheWildThings.com
A 501(c)3 Corporation
ID # 20-4855141
The Max Schewitz Foundation is a nonprofit, grant-making charitable foundation started by Max's family and friends after Max died from a sudden cardiac arrhythmia at age 20 in 2005. Max and Nick were best friends since age 4 and Nick uses his racing platform to spread the word on Sudden Cardiac Arrest so that no friends or family have to go through the same pain as they did.

The Foundation has dual missions:
To support education, prevention, and research of sudden cardiac death in young people.
To support environmental conservation, a lifelong interest of Max's. Specifically to support through education and conservation fragile and threatened reptile ecosystems and species.
Sudden cardiac death, which can have multiple causes, accounts for approximately 300,000 deaths per year in the United States, topping deaths from lung cancer, breast cancer, and AIDS. 31% of coronary-associated deaths were sudden deaths in people aged 20-29 years. That means that often the first sign of cardiac problems in this age group is death. On average, six healthy-looking young adults die every week in the United States from sudden cardiac death. This underscores the need for development of early detection to increase survival rates.

The conservation and preservation of fragile and threatened reptile ecosystems and species was Max's passion as evidenced by his many years of work in the field, educating the general public, assisting in biological research projects, breeding rare species, and investigating reptiles in their native habits worldwide. Now, his work in the field of education and preservation can only continue through the generosity of others.

The Max Schewitz Foundation seeks to grow funds to help prevent deaths of talented young people like Max and to continue his work in the conservation and preservation of fragile ecosystems and species.Donors will be able to choose their focus of interest and be assured that funds will be applied to their chosen interest area.The Max Schewitz Foundation will accept grant requests in the two interest areas. The Foundation's Board of Directors will select and fund grant requests annually.

As the Foundation expands so will the scope of its work and the benefit to the greater community. The Foundation has a strong network of family and experts in both fields available for background information and one-on-one conversations about the Max Schewitz Foundation. Please visit them at www.MaxandtheWildThings.com